Mountain Safety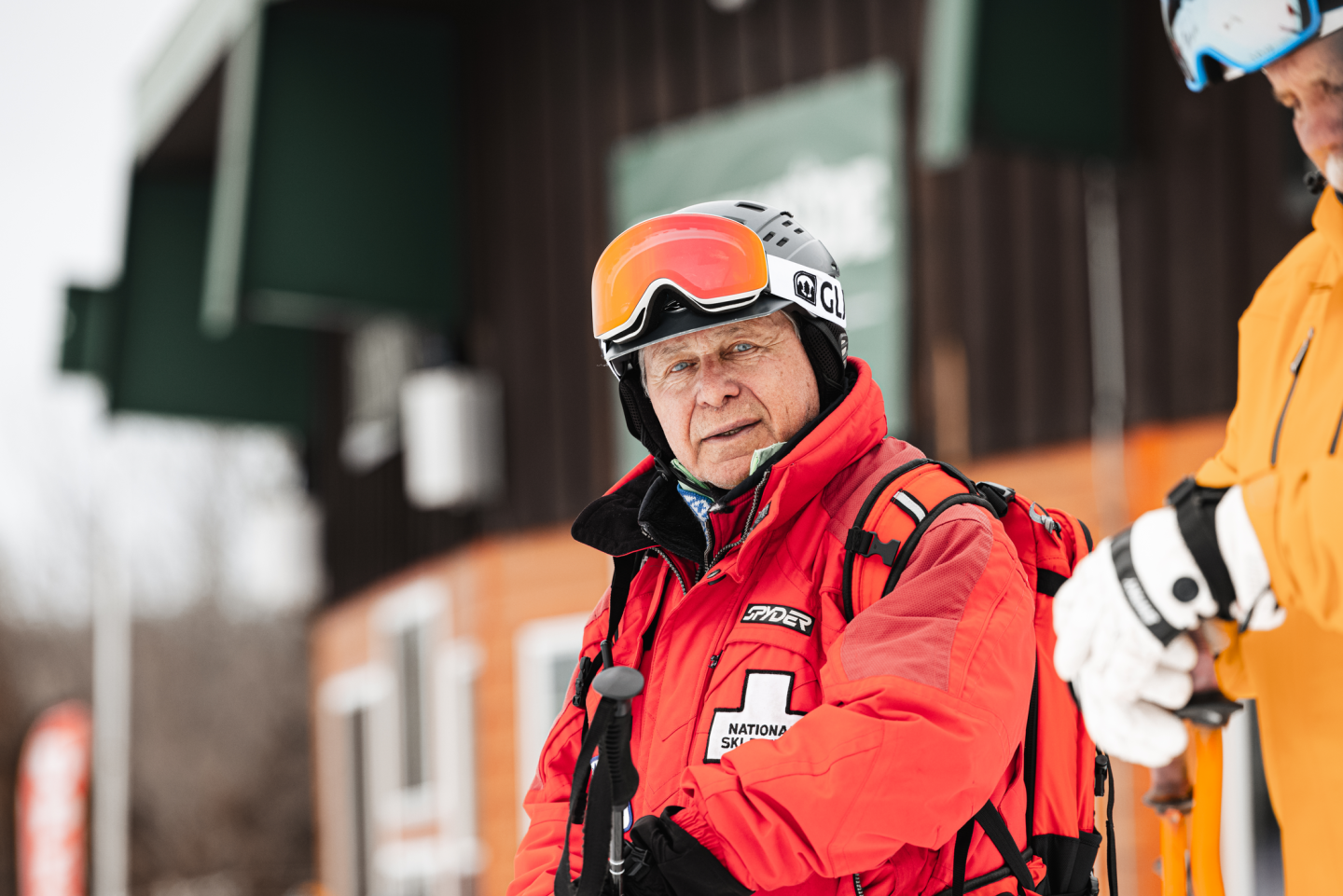 Know the code
All of the ski areas across the country abide by the "Your Responsibility Code.
Always stay in control. You must be able to stop or avoid people or objects.

People ahead or downhill of you have the right-of-way. It is your responsibility to know your surroundings and avoid those downhill.
Stop only where you are visible from above and do not restrict traffic.
Look uphill to avoid others before starting downhill or entering a trail.
You must prevent runaway equipment.
Read and obey all signs, warnings, and hazard markings.
Keep off closed trails and out of closed areas. It's easier to get lost, injured, or stuck somewhere when emergency response teams won't know where to look for you.
You must be able to load, ride and unload lifts safely. If you need assistance, ask the lift attendant.
Do not use lifts or terrain when impaired by alcohol or drugs.
If you are involved in a collision or incident, share your contact information with each other and a ski area employee.
Trail maps are available for download and at Ticket Windows and in Lodges. Don't forget your ID and wallet for food and fuel. Bring comfortable clothes to change into after a long day.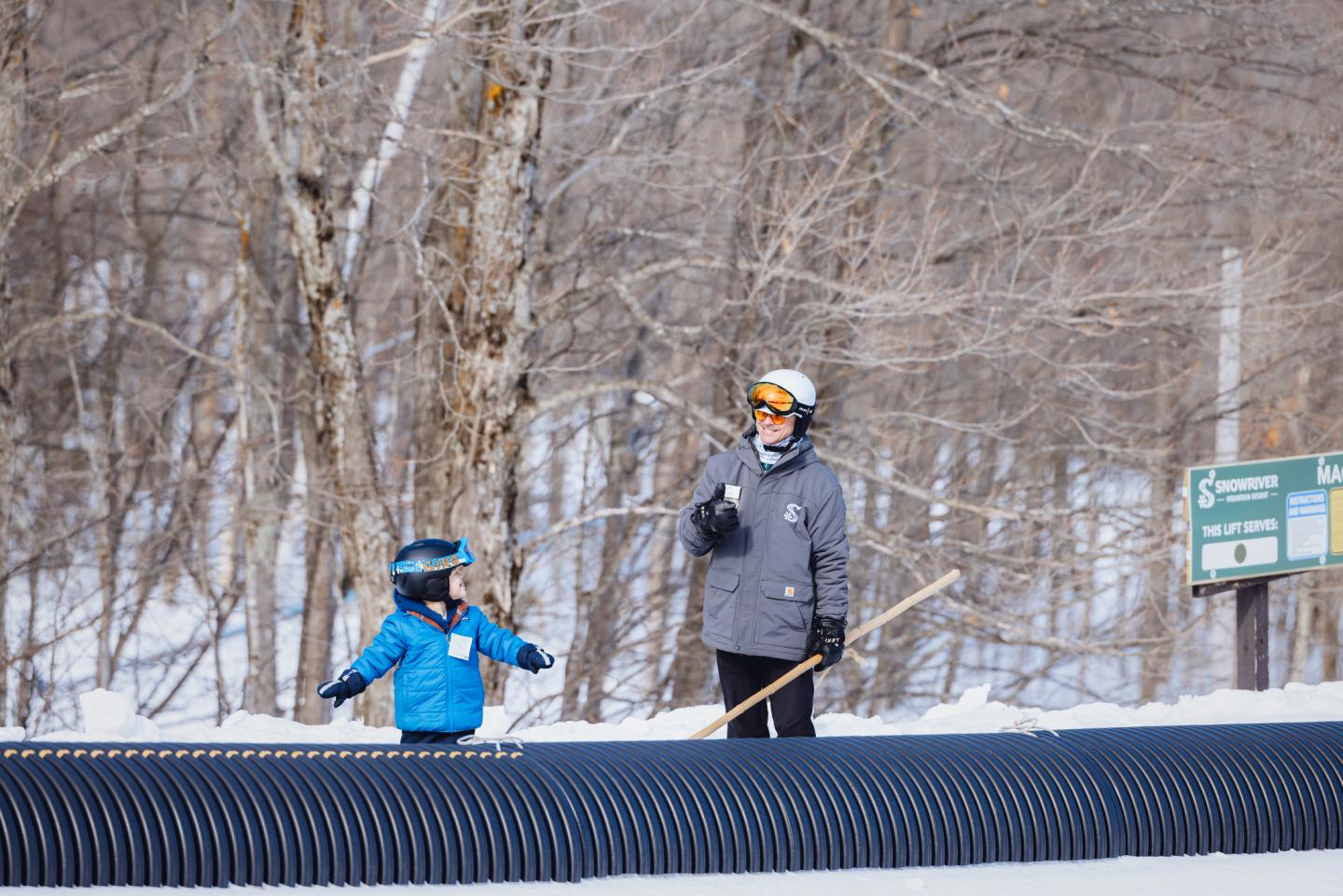 Take a lesson! No matter how old you are.
Too many accidents happen when loading/unloading from a chairlift. Your friends may be qualified to do Double Black Diamonds. Bottom line: if it makes you feel uncomfortable, level up with a lesson before risking injury.
Take a lesson from one of our qualified instructors and you'll safely learn more in a one-hour lesson than you will all day on your own. You'll improve the most when you receive guidance and feedback.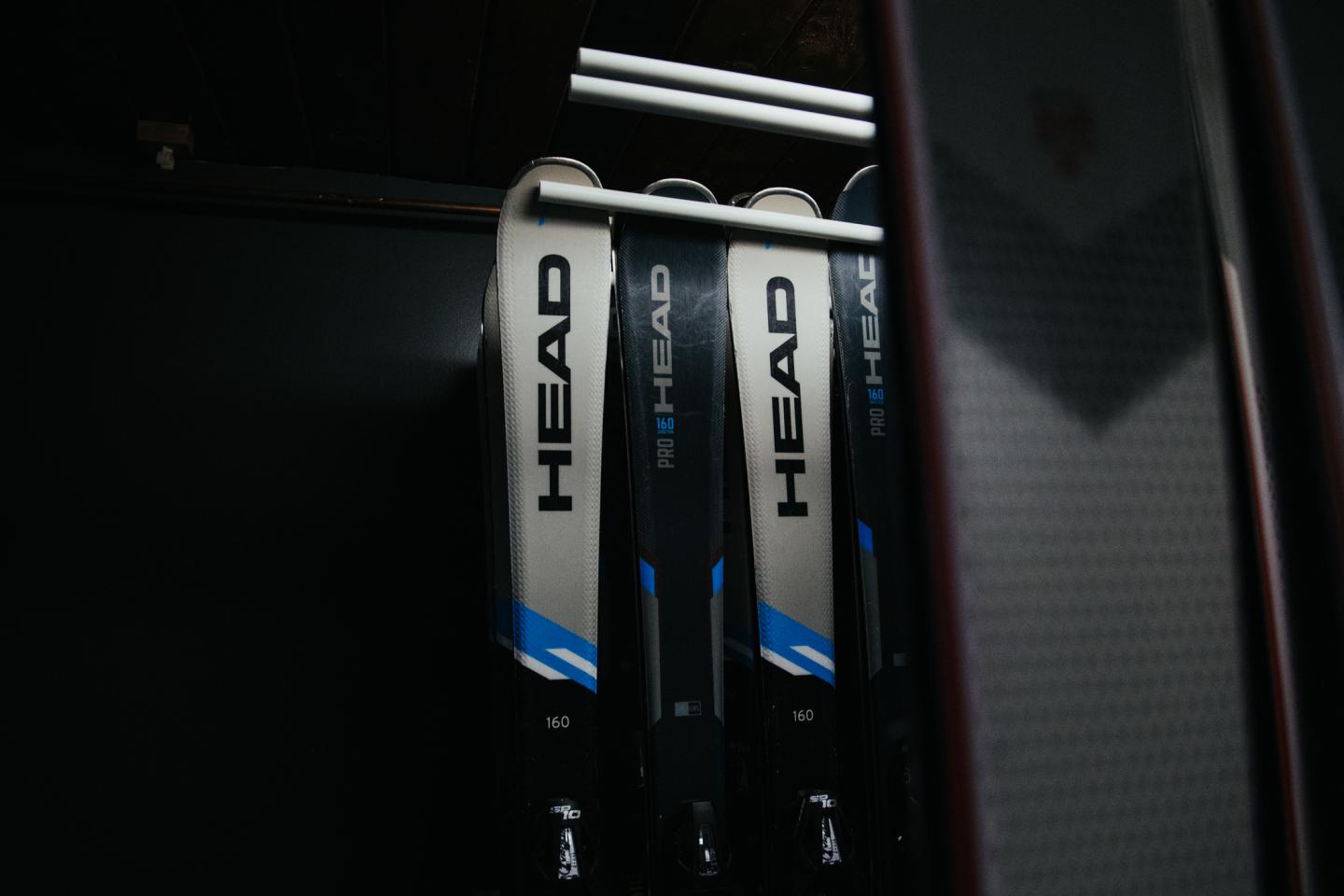 Make sure your equipment is right for you.
Improper equipment can lead to injury. DIN settings on skis allow a skiers' boot to pop out of the ski when pressure is applied. When a DIN setting is too tight and a fall happens, the ski doesn't come off, causing one of the most common ski injuries: torn ACL or meniscus in the knee.
Using improperly sized equipment slows your learning. It's easy to want to ride the gear you have, but your big brother's hand-me-downs or your 10-year-old Middle School gear won't get you far.
Obtain proper equipment. Be sure to have your ski or snowboard bindings adjusted correctly. You can rent quality ski or snowboarding equipment from Snowriver Mountain Resort at both the Jackson Creek Summit Chalet and Black River Basin Lodge.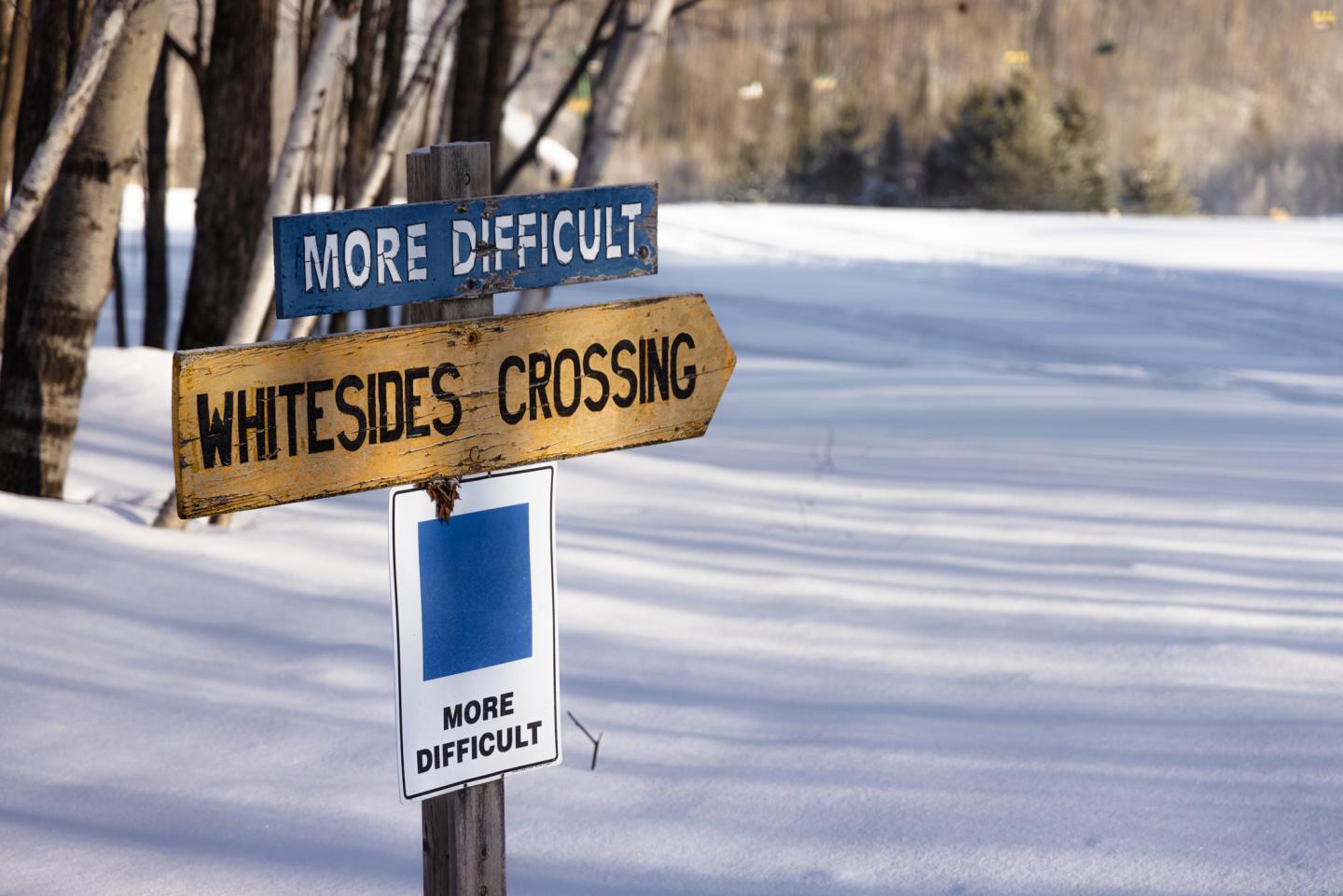 Know Your Limits.
Skiing and snowboarding is an athletic sport and it takes a lifetime to master. Remember that learning is a part of the fun, and falling will certainly occur. Just remember to not get frustrated and once you get it, it will change your life!
If you're tired, take breaks. Injuries usually result from fatigue. Have a seat and enjoy the people around you. Refuel with snacks and warm beverages, and listen to your body when it's time to be done.
Most of all, have fun. Competition can drive us to do better, but taking things too far to keep up can be unsafe and cause us to walk away from a great sport out of frustration. Relax, and enjoy yourself!
Dress Appropriately & Wear Layers
Anyone from the Midwest knows winter can be unforgiving if we're not dressed properly. Making sure we have the right layers (yes, you can have too many) is the most crucial first step to staying warm and safe on the mountain.
Dress in layers. Layering can accommodate for your body's constantly changing temperature. Dress in synthetic base-layers (long underwear), which dries quickly, absorbs sweat, and keeps you warm. Wear a turtleneck, sweater, and jacket over the top of your base layers. Too many layers can cause sweating, which will make you cold and dehydrated, however! PRO-TIP: Don't double-layer socks. It cuts off circulation in your feet. Instead, opt for a thick, warm pair of wool socks.
No cotton! Cotton is not a "wicking" fabric, meaning it does not act to absorb or draw off liquid from your body or dry quickly. Wool or a synthetic blend is best for socks and base layers.
Be mindful of weather. Mother Nature has a mind of her own. Bring a headband or hat with you to the slopes - 60% of heat loss is through the top of your head. PRO TIP: Thin caps can fit nicely under helmets.
Water-proof hand protection. Protecting those extremities is crucial to preventing cold-weather injuries. Making sure your gloves or mittens are water-proof (and even bringing a backup pair) ensures warm, dry hands throughout the day or weekend! PRO-TIP: Mittens are warmer because they allow the heat from all your fingers to keep each other warm.
Hand warmers are your friend. Hand and boot warmers come in all varieties. From disposable to re-usable, they keep those little piggies warm in even the coldest of temperatures.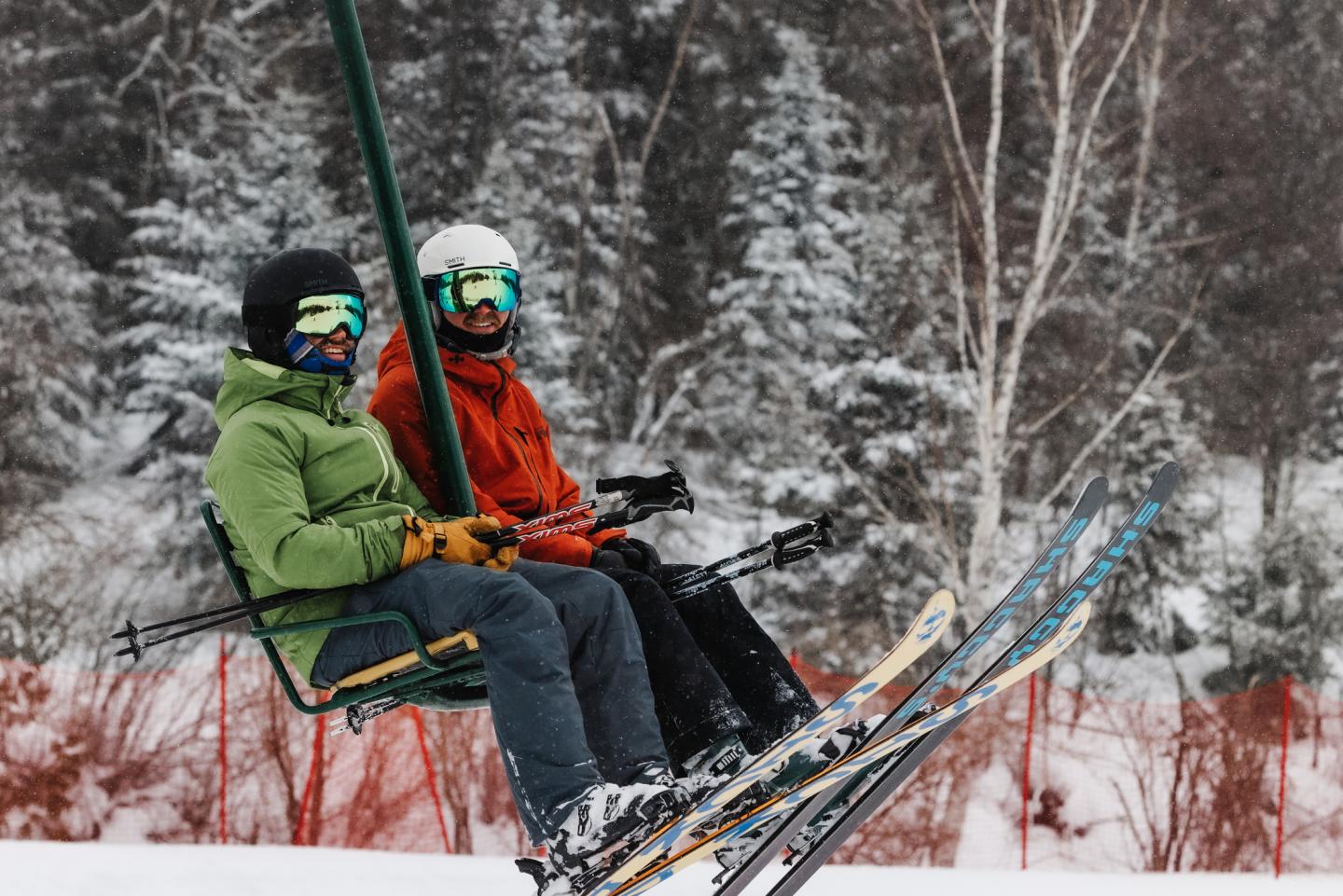 Backup options
We got your back. Equipment and helmet rentals are always available in case you left anything behind. Helmets are never a bad idea, especially when the slopes are slipperier than expected, or you feel brave enough to get up on that black diamond this year. 
We have retail shops at both Black River Basin and Jackson Creek Summit for layering. Our pros can help you pick out the best gear for the mountain, current weather conditions, and comfort.