Waterfall Season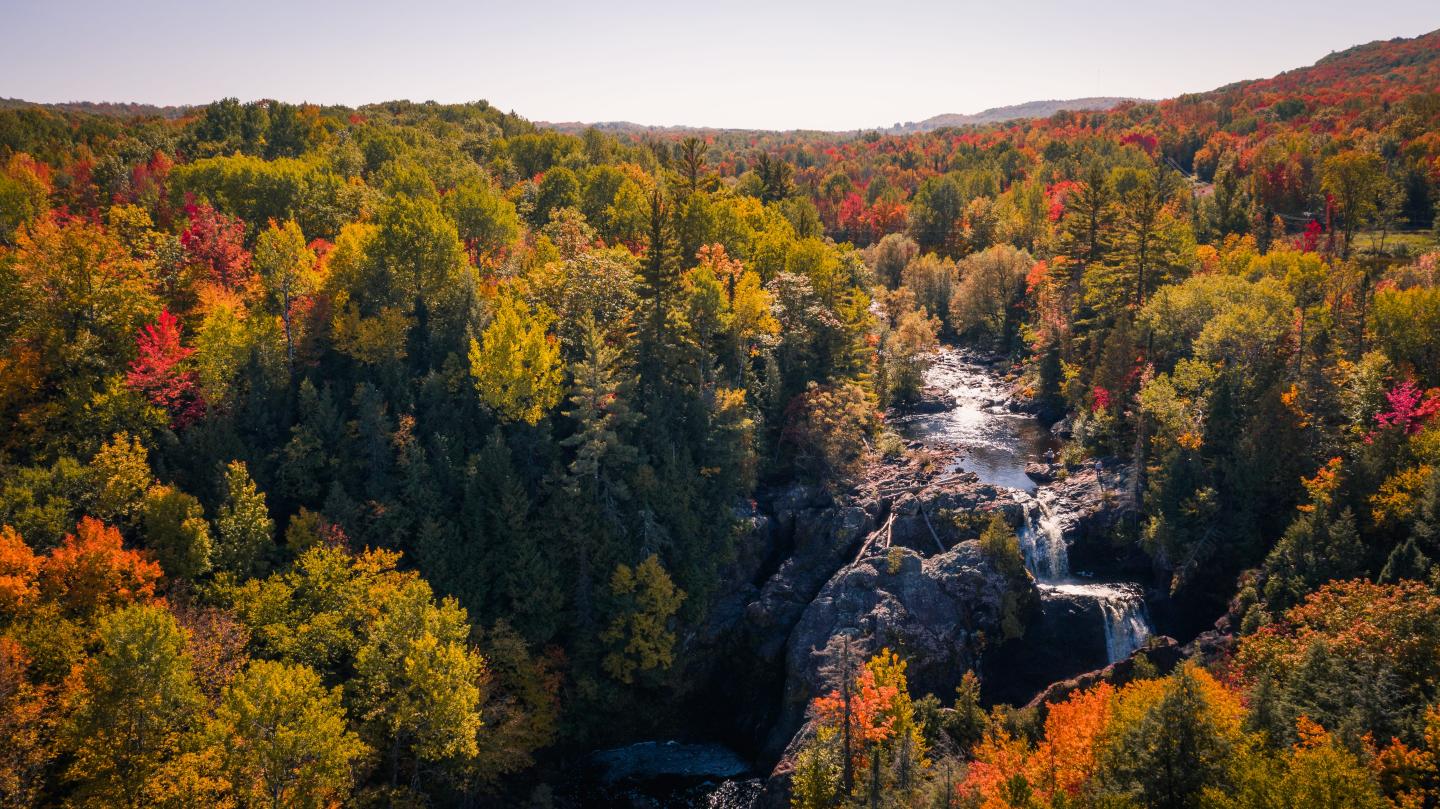 The UP is widely known for its large number of waterfalls. With 300+ waterfalls scattered across the U.P., ranging in size from under 5 feet to 48+ feet vertical drops. With 21 of those right here in Gogebic County and another 18 just a stone's throw in Ontonagon County. The majority of falls do require small to moderate hiking to get to. Details for some of the most famous waterfalls can be found below.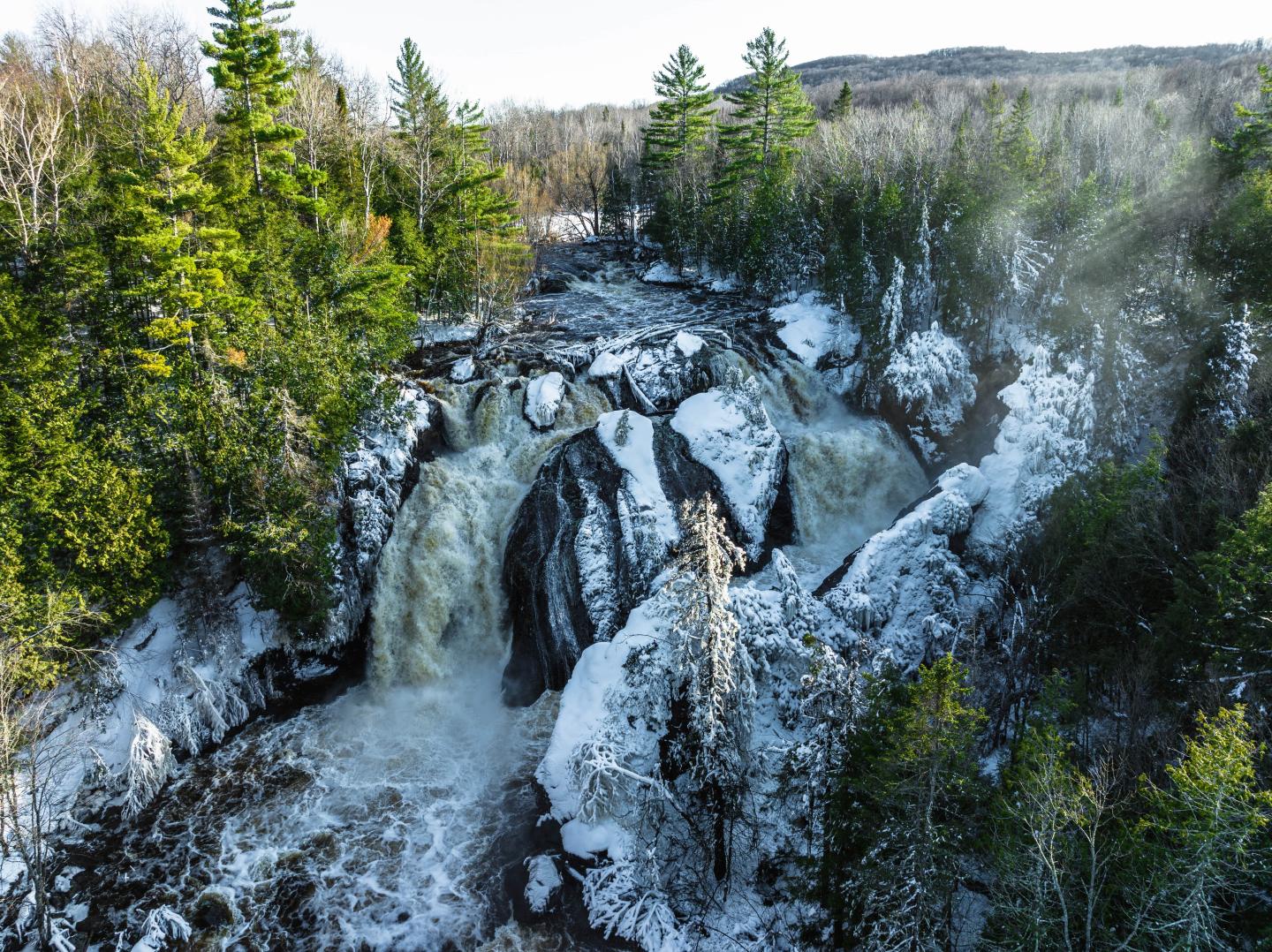 Gabbro Falls
Gabbro Falls is located on the property of Snowriver Hens, the name of our resort, Black River Basin. The falls offer a mesmerizing display of cascading water as it tumbles over rugged rock formations, creating a symphony of sights and sounds. The falls are renowned for their picturesque setting. They are surrounded by lush forests and granite cliffs, providing an idyllic backdrop for nature enthusiasts and photographers alike. From the road, the hike-in is at most 20 yards. For the adventurous souls, the .3 mile hike from the bridge to Gabbro Falls also offers opportunities for swimming and fishing in crystal-clear waters. The refreshing plunge pool at the base of the falls beckons swimmers to take a dip. At the same time, anglers can try to catch trout, salmon, and other native fish species that thrive in the river.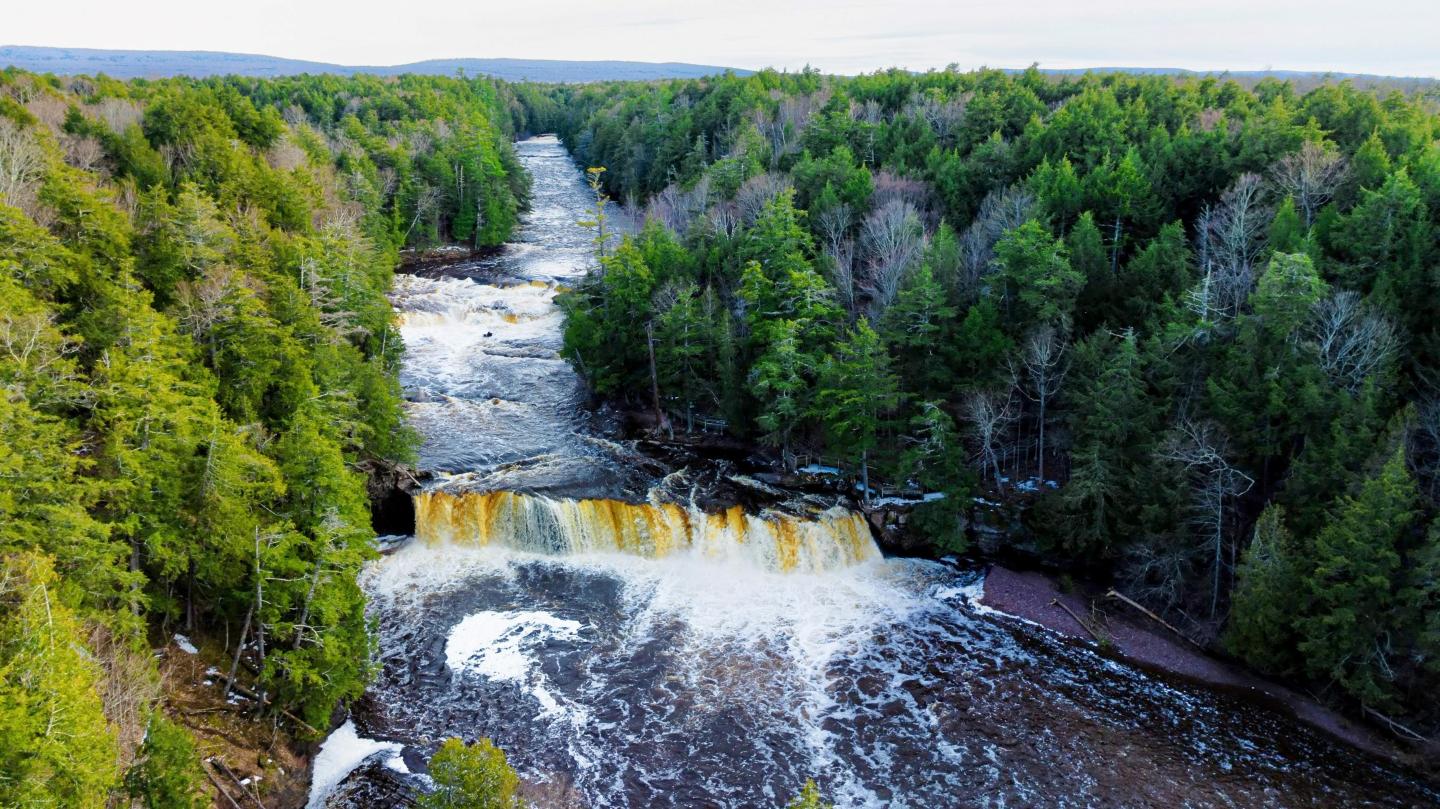 Manabezho Falls
Manabezho Falls, a breathtaking natural wonder nestled in the heart of Michigan's Upper Peninsula. Located within the striking Porcupine Mountains Wilderness State Park, Manabezho Falls is a mesmerizing cascade that captivates visitors with its pristine beauty and serene surroundings. The falls stands tall at approximately 25 feet and just under 200ft wide. This 2 mile out and back hike is always my first recomendation to friends and family who are in the area. Thee entire hike is along the Presque Isle River with stunning step rock formations along the way that are uniqe to the area. The well kept hiking trail is part of the NCT system (North Country Trail) that leads you right to relaxing rock beach with plenty of drift wood to take a break for lunch at.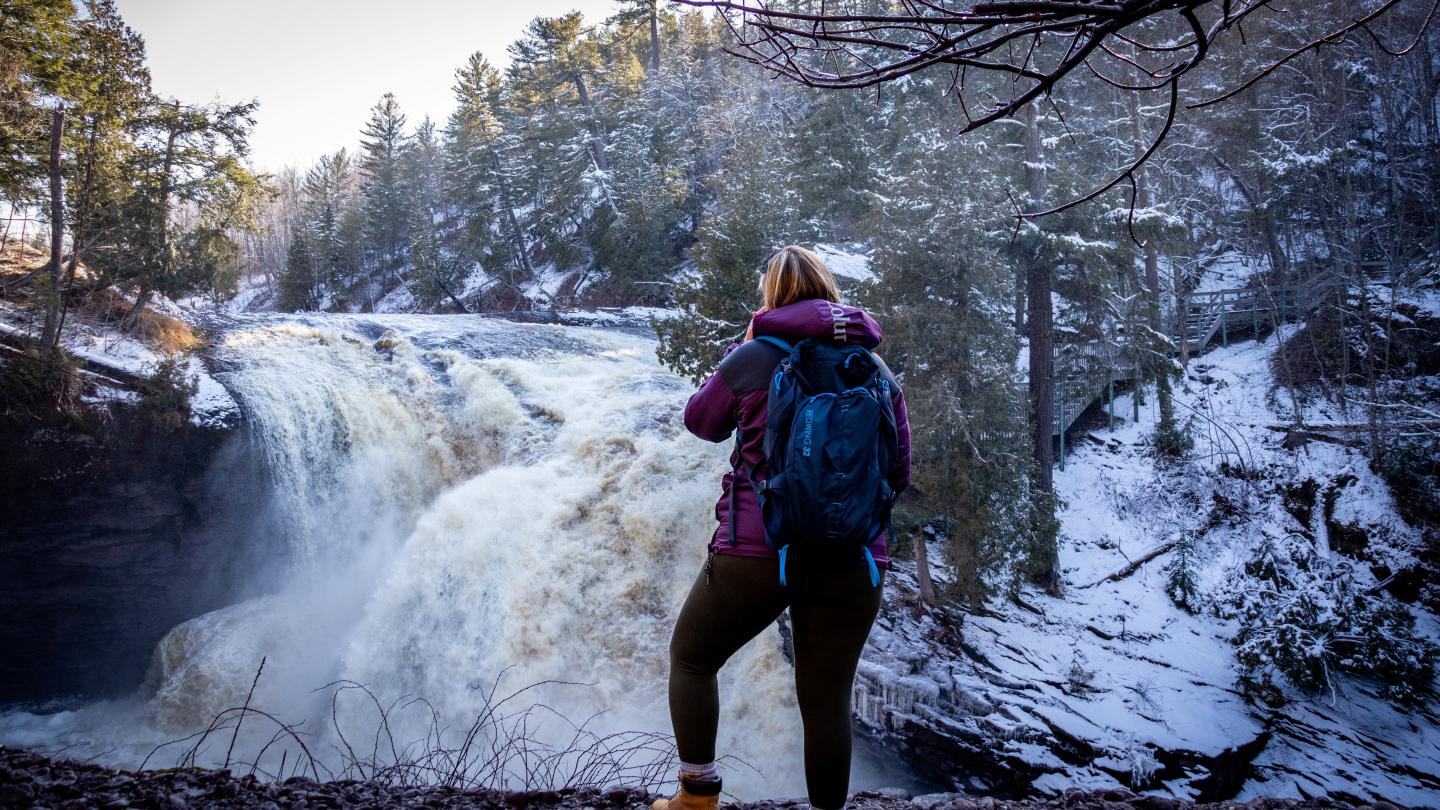 Rainbow Falls
What sets Rainbow Falls apart is its name-sake rainbow, which frequently appears in the misty spray of the falls on sunny days. Witnessing this ephemeral phenomenon is truly a sight to behold. For adventurous souls, Rainbow Falls also provides opportunities for hiking and exploration. During your driver to Black River Harbor you will pass muiltipul parking areas that are all linked by one hiking trail. This trail will give you stunning access to Potawatomi and Gorge Waterfalls that are well worth the hike. The surrounding area boasts an extensive network of trails that wind through the wilderness, offering scenic vistas, wildlife sightings, and a chance to connect with nature at its finest. If you're in a rush and want to see muiltipul falls in a short amount of time, this is on your to-do list.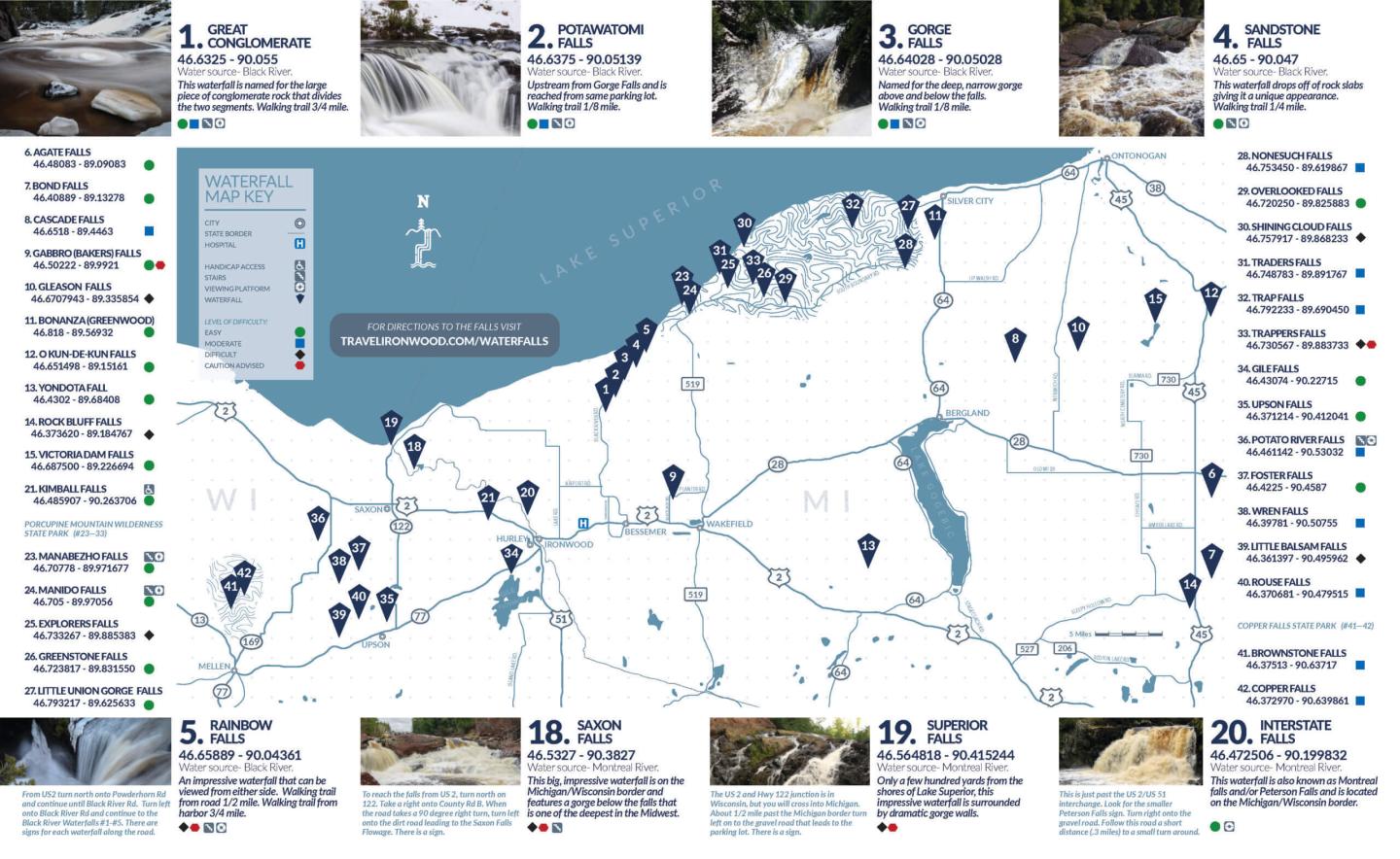 Western UP Falls
The Upper Peninsula of Michigan stands out for its unique abundance of waterfalls, creating a captivating and awe-inspiring natural landscape. With over 300 named waterfalls, the region offers a remarkable concentration of cascades, each with distinct characteristics and charm. The area's diverse geology and ample precipitation contribute to the formation of these majestic waterfalls, ranging from towering and thunderous falls to serene and gentle cascades nestled amidst lush forests. Use this map to explore local falls and to fall in in love with the Upper Penninsula!